Expert Managed IT Services and Tech Support
Have you ever thought about how dependent your business is on technology? Imagine coming to your office tomorrow and finding that your computer and phone stopped functioning. What would you do?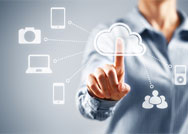 In a wired world, a business' use of technology contributes directly to its success. Finding the right mix of software, hardware and technology systems can promote productivity, improve customer service and even shorten a business' sales cycle. What's more, businesses that successfully leverage technology will usually see an impact on their bottom line as well.
If you're looking for a trusted partner to provide optimized IT solutions for your company, you've come to the right place.
Noviant is dedicated to helping small and medium-sized businesses (SMBs) achieve their long-term goals through the best application and management of information technology. We work with organizations that are looking for managed IT services and IT support in order to build, maintain and optimize their IT - all without breaking the bank. We are the experts in New York, NY tech support, services and security, and we offer it all at a price you can afford.
Noviant prides itself on providing our New York, NY tech support and managed IT services clients customized IT solutions that drive their success. Our company brings the experience and knowledge you need to make your business more successful through better managed IT services and tech support.